John Broomfield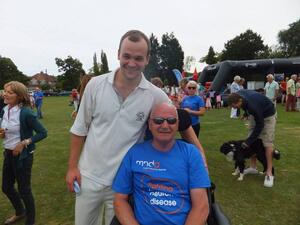 It is with great sadness that I relay the news of John Broomfield's death after a long and noble struggle with motor neurone disease. John died peacefully, surrounded by all of his family. This included his son, Jack, who thankfully hadn't been required by the RAF to return to the Falklands for a further tour of duty.

As all those of you who knew him will be aware, John was a much loved and respected man. And he loved his sport. Right to the very end at St Peter and St James' Hospice, John could astound visitors with his encyclopaedic knowledge of sporting results and players from years gone by. He was a very shrewd judge of a player.

A very good footballer and cricketer in his youth, he was passionate about Sussex CCC, Lewes FC and the Albion. John was incredibly proud to see his son, Jack, open the bowling for our 1st XI from the age of 17. He loved to watch Jack play and became a regular supporter at Ditchling in recent years, always with a twinkle in his eye and quietly entertaining those around him with proper jokes and his wonderful sense of humour and enjoyment. His friendship and support for the Club will be terribly missed.

Many of you will have been at the match last September which John wanted to hold as a special event for the whole community, as well as a big fund-raiser for MNDA. Of course, it was a huge success, surpassing all expectations. The numbers were incredible. Of course, people will always come out to support a charity cricket match. But – to my mind - the unparalleled numbers and funds raised that day were testimony to one thing – that John was a man who was especially loved and respected by an enormous number of people. A man of great character.
Dougie Porter Breaks Leg...PLAYING CHESS!!
DCC were saddened to hear that former U16 captain Dougie Porter will miss the start of the season after breaking his ankle in a pre-season accident whilst on holiday....PLAYING CHESS!
Douglas, pictured on the right, will be out of action for 2 months and is undergoing surgery later this week.
Questions are now being asked whether Douglas should have been allowed to play such a rough and dangerous sport especially so close to the start of the cricket season.
National Organisation of Board Games (N.O.B) has very clear guidelines as to who should be allowed to play games and the safety requirements for each one.
"We take injuries in Chess very seriously," said a spokesman for N.O.B, "We will be carrying out a full investigation into how a cricket player known for his agility and pace, could have been injured whilst sitting very still, in a chair, playing Chess."
The spokesman also went on to defend the poor reputation Chess has for injuries. "It's not like those TiddlyWinks cowboys! They don't even wear helmets! That's just a massacre waiting to happen!"
Ditchling CC has a proud record for looking after the health and safety of their younger players but as a precautionary measure the 1976 copy of Snakes & Ladders has been removed from the conservatory area. Further sanctions introduced in the wake of this injury include the creation of a "Safe Area" down by the cricket nets where members can play Paper, Scissors, Stone without hurting themselves.
We wish Douglas a speedy recovery.
Money raised for local hospice.
Patrick Nolan and Ian Poysden were at St Peter & St James Hospice this week handing over a cheque for nearly £1,500 raised by our players, members and supporters during our match vs Sussex Old Young Cricketers. We also raised a lot of money for the Sussex Young Cricketers that day.
I thought the highlight of the day was watching Tom Carr destroy Sussex or the lunch in the Bull which included meeting Tony Grieg. Watching all the juniors being coached by Mike Yardy was also a great sight to see at Ditchling Rec however THE MOST IMPORTANT PART was raising money for this amazing charity, St Peter & St James.
It costs St Peter and St James £2m to operate every year and their kindness and care of the terminally ill is unreserved. great cause, big effort from DCC.
Don't forget to follow @DitchlingCC and @StPeterStJames on Twitter.